from St. Faustina's Diary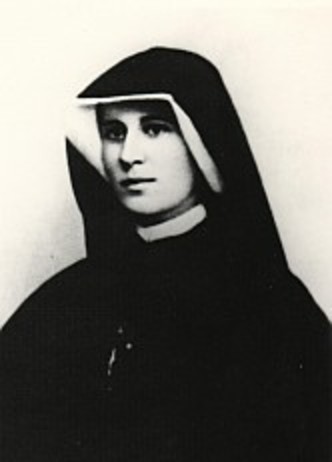 On October 5, 1938, a young religious by the name Sister Faustina (Helen Kowalska) died in a convent of the Congregation of Sisters of Our Lady of Mercy in Cracow, Poland. She came from a very poor family that had struggled hard on their little farm during the terrible years of WWI. Sister Faustina had had only three years of very simple education. Hers were the humblest of tasks in the convent, usually in the kitchen or the vegetable garden, or as a porter.
On February 22, 1931, Our Lord and Savior Jesus Christ appeared to this simple nun, bringing with Him a wonderful message of Mercy for all mankind.
In the evening, when I was in my cell, I became aware of the Lord Jesus clothed in a white garment. One hand was raised in blessing, the other was touching the garment at the breast. From the opening of the garment at the breast there came forth two large rays, one red and the other pale. In silence I gazed intently at the Lord; my soul was overwhelmed with fear, but also with great joy. After a while Jesus said to me, 'paint an image according to the pattern you see, with the inscription: Jesus, I trust in You." (Diary 47)* Some time later, Our Lord again spoke to her:

"The pale ray stands for the Water which makes souls righteous; the red ray stands for the Blood which is the life of souls...These two rays issued forth from the depths of My most tender Mercy at that time when My agonizing Heart was opened by a lance on the Cross...." (Diary 299) 
An Introduction to the Divine Mercy Message
In this video, Fr Michael Gaitly gives an introduction to the modern message of Divine Mercy and its connection to the message of the Gospel.